Our country's increasingly diverse community will result in a more diverse patient population moving toward a majority-minority balance by 2043, according to projections from the U.S. Census Bureau. Currently, those changing demographics are reflected in hospital patient populations. And yet, this increasing diversity is not reflected in healthcare executive leadership.
Indeed, healthcare's most notable professional organizations, the American Hospital Association, the American College of Healthcare Executives, the American Society for Healthcare Human Resources Administration and the American Organization of Nurse Leaders; have all named diversity and inclusion as important initiatives. But despite best efforts and the sincere commitment to a more diverse workplace, healthcare organizations have made little progress toward C-suite diversity.
Which begs the question: how do you identify, attract, and hire top talent that reflects the patient population? 
Building & Promoting an Inclusive Search Process for Increased Diversity
The right executive search firm can assist your healthcare organization in building a diverse and inclusive recruitment process. So, how do you choose an executive search firm for your healthcare organization? It's definitely not a "one size fits all" answer. 
Kirby Bates Associates (KBA) uses a proven inclusive recruitment methodology to all healthcare executive search assignments. This not only assures recruiting candidates who are the most likely to be successful in the role; it also fosters diversity and inclusion by keeping "likability" and implicit bias in check.
Employing Inclusive Recruitment in Healthcare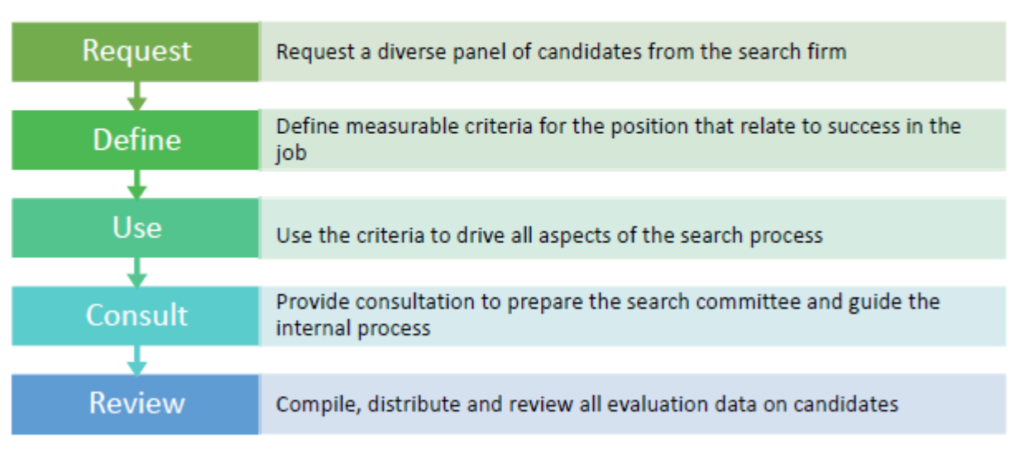 In addition to actively seeking a diverse pool of candidates, our process is founded on measurable criteria that are directly related to success in the role within the client's unique organization. With our first-hand knowledge of the competencies required for success in the role, we can efficiently identify challenges or barriers to an executive healthcare search and recommend tangible strategies to overcome them.
Read, 'Diversity in Healthcare Leadership: Breaking the Glass Ceiling' for a fresh understanding into the underpinnings of the challenge in healthcare as depicted from a  survey conducted by Yvonne Wesley, PhD, RN, FAAN, and M. Jane Fitzsimmons, MSN, RN. In addition, discover first-hand insights on the respondents' experiences as emerging leaders, perceptions of barriers to career progression – both visible and invisible – and opportunities they perceive to support diverse leaders' advancement to executive roles.  
Kirby Bates' Inclusive Approach

Our inclusive recruitment process is designed to find the best candidates available in healthcare leadership and extends between a 12 to 16 week period from the time the agreement is signed until the successful candidate is selected.
Phases of Kirby Bates' Inclusive Search Process
Phase 1: Understanding & Articulating the Challenge
We begin with a thorough assessment of the organization – their history, culture, the scope of services, strategic goals, organizational relationships, and leadership needs. We meet with all key stakeholders to define the primary responsibilities and requirements of the position, the ideal personal characteristics, and the first-year objectives and deliverables. Most importantly, we develop and articulate measurable, objective criteria for the position that relates to success in the role.
Immediately following the on-site assessment, we prepare a Position Profile that includes an overview of the organization and location, responsibilities of the position, the candidate requirements, the expected first-year deliverables, and the key attractions of the position.
Phase 2: Search Strategy & Candidate Identification
We develop an inclusive recruitment strategy and key marketing tactics and establish timelines for the search. We then employ proven techniques for identifying potential candidates. These can include database and on-line research, targeted advertising, referral networks, email, and telephone contacts. We further network with professional organizations for minority nurses and distribute information about opportunities to leaders within these groups both nationally and on a regional level.
Phase 3: Candidate Development
We carefully screen all candidates using the measurable, objective criteria. We discuss potential candidates with the search committee and work together to narrow the field. We then conduct in-depth personal interviews with the strongest candidates who meet the established criteria.
Phase 4: Candidate Presentations & Interviews
A candidate presentation designed to help interviewers make objective comparisons among candidates is prepared for each semi-finalist prior to on-site interviews including:
candidate's reformatted resume
executive summary
candidate's written responses to a series of questions specific to the role
Our executive search consultants assist in strategically building the interview panel and convene an interviewer kickoff meeting to focus the team on the identified criteria for success in the role as a further assurance of inclusivity. 
We then work with the client to arrange on-site interviews and can provide assistance in developing interview formats, criteria-based interview questions and guidelines for key stakeholders. In addition, we also brief each candidate prior to on-site interviews to be sure they know what to expect and how to prepare — something often overlooked by other healthcare executive search firms.
Phase 5: Final Selection & Follow‐Up
KBA develops an objective candidate evaluation tool based on the identified success criteria for the role. We collect and summarize responses from all interviewers to assure the best selection. 
We are available to discuss each candidate and assist our clients in any way necessary to make a final decision. Once the final candidate is selected, we work with the Client to structure and present the job offer and compensation package. When the offer is accepted, we release other candidates. Close contact continues with both the client and the candidate for a year following the placement to ensure a smooth transition and mutual satisfaction. If for any reason, the successfully placed candidate leaves before one year, we conduct another search for the same position at no charge, except for expenses.
To ensure the successful and timely completion of the search process, we monitor search timelines and milestones throughout the process.  We conduct follow up calls to clients and the successful candidate as they start their position and then quarterly through the first anniversary to ensure a smooth transition to the role and the organization.  
Commitment to Providing an Inclusive Executive Search Experience
As successful CNOs, Kirby Bates' leaders know the challenges facing hiring executives and take a personal interest in solving our clients' challenges. KBA's executive search consultants help clients objectively evaluate organizational needs and expectations, review the organizational structure and reporting relationships, establish realistic position profiles and compensation packages, and understand the current healthcare recruitment market. Coupled with a robust national professional network and extensive database, we can identify the best possible candidates for your next executive healthcare search.
Contact our executive search team to learn more about our inclusive recruitment process.