In the healthcare industry, private equity (PE) companies are just as likely to strike fear in the hearts of healthcare providers as they are to cause them to see dollar signs. For physician practice owners, the compensation offered by PE companies in exchange for a stake in the practice can be tempting. However, some fear that PE-backed groups will rob physicians of autonomy or prioritize profits over patients. These, and other misconceptions about PE companies, can make it difficult for them to recruit quality physician executives–who are exactly the leaders needed in this rapidly growing segment of the healthcare industry. 
Accounting for 30% of all for-profit hospitals in the nation, PE-backed healthcare is a significant presence with distinct recruitment needs and high expectations. Kirby Bates Associates is well aware of PE companies' challenges and is uniquely positioned to meet their needs and exceed expectations, as demonstrated in a recent physician executive search.
Situation: Rapid Growth Calls for a Unifying Force 
This healthcare services company grew quickly with an aggressive acquisition strategy and numerous de novo sites. Investors in this national healthcare services company were thrilled with its rapid, double-digit growth, but leadership knew that operational and cultural consistency among the individual sites was critical for future success.
The best chance they had at solving these growth challenges was to hire a Chief Medical Officer to establish standards and create consistent models of care.
The leaders of this organization can attest to the difficulties of recruiting physician executives. For six months, they searched for a new Chief Medical Officer. After interviewing several potential candidates, no one stood out as the right person for the job, so the role remained vacant.
Action: An Executive Search Partner That Understands Private Equity
The need for a CMO was urgent, and yet, market research showed the average time to fill a physician executive role to be 16 to 20 weeks. This timeline might be standard in the healthcare industry, but the CEO at this care delivery organization knew they could not afford to wait. When they connected with Troy Keach, Vice President of Retained Executive Search at Kirby Bates Associates, they were relieved to meet someone with a background in both private equity and primary care. Troy's years at Mayo Clinic and then time as CEO and President of various PE-backed medical groups meant he had relationships with physician executives nationwide and understood the expectation of urgency in PE companies.
With a comprehensive candidate profile, Troy searched the Kirby Bates database and his professional contacts for CMOs who matched every qualification required. He knew their leadership wanted only the top echelon of candidates, so he carefully selected several who appeared to be the best fits. Troy reached out by phone to introduce the opportunity, gauge interest, and carefully screen each candidate, asking behavioral questions to elicit examples that would objectively demonstrate the candidate's skills and experience in action.
"I had a clear vision of who was needed and was able to translate that into usable search filters as I combed the various databases," explains Troy. "I contacted those candidates who rose to the top and purposefully evaluated them against objective criteria directly related to performance in the role." 
Within two weeks, Troy had a diverse panel of candidates he knew could do the job successfully. He presented them to the CEO, who invited all of them to interview at the corporate headquarters. Troy worked diligently with the Administrative team and the candidates to assure the process moved smoothly and quickly. Two weeks later, they were ready to extend an offer. 
Behavioral Interview Questions: Assuring a Fair and Objective Evaluation

Well-designed behavioral interview questions establish objective standards for candidates, allowing the interviewer to fairly evaluate the examples provided and keep implicit bias at bay.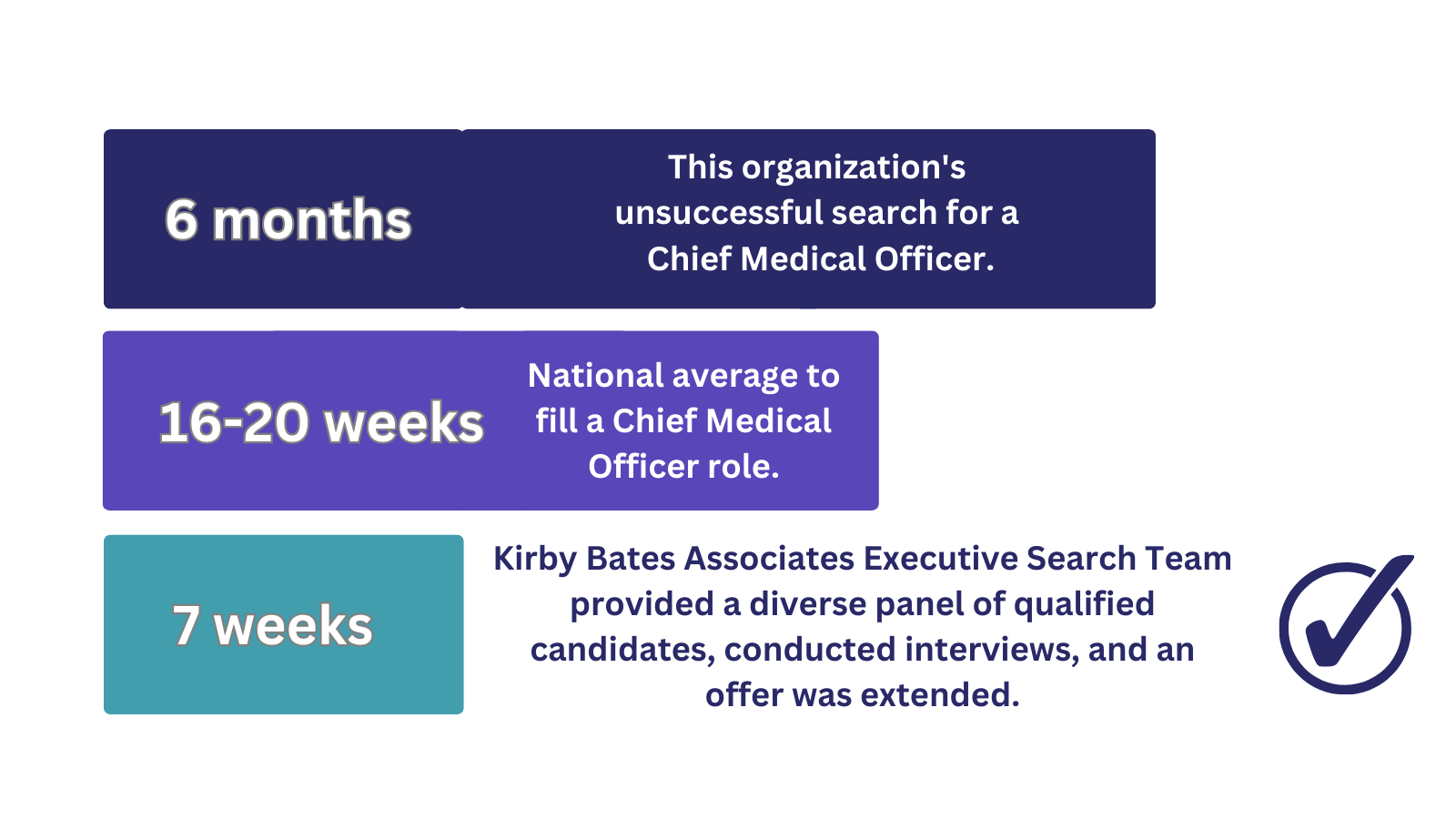 Results: New CMO Already Making an Impact 
From start to finish, the CMO search took seven weeks–an unprecedented timeline in healthcare executive recruitment. Troy's connections and his keen understanding of who the organization needed allowed him to quickly find strong candidates and evaluate them against objective criteria directly related to performance in the role. Once he knew he had suitable candidates, he coached them to present their best candidacy, assuring that leadership could easily see why each was right for the role. The candidates were certainly grateful to Troy for his guidance and transparency about the demands of the role and the nuances involved in working for a private equity company. 
It takes a strategic balance of skills and experience to be an executive leader for a private equity-backed company. Finding these skilled leaders can be difficult; fortunately, it's what we know and what we do. 
At Kirby Bates Associates, our unparalleled expertise in executive recruiting allows us to understand the unique challenges facing the healthcare industry, and to identify the talent best prepared to elevate your organization. To learn more or start the executive search process, get in touch with our team of experts today!