When the executive team of this 250+ bed California community hospital discovered challenges in Laboratory Services, they contacted Kirby Bates Associates for a highly qualified Interim Director to align the department with contemporary best practices and technology. Within days, KBA engaged a seasoned interim leader who had additional expertise in LEAN Principles and Practices to guide the transformation.
When the interim leader found contamination rates above 3% and a 25% order correction and relabeling rate, she decided to use the Gemba Approach:
Observe operations with a thorough assessment
Engage staff and leadership to create efficiencies
Improve service line performance and the bottom line
With a laser focus on patient safety and operational efficiencies, the Interim Director, Laboratory Services established best practices in staffing, billing, contracting, clinical practice, automation, and connectivity to raise revenues and decrease expenses.
Six months later, all stakeholders, from patients to the board room, are benefitting.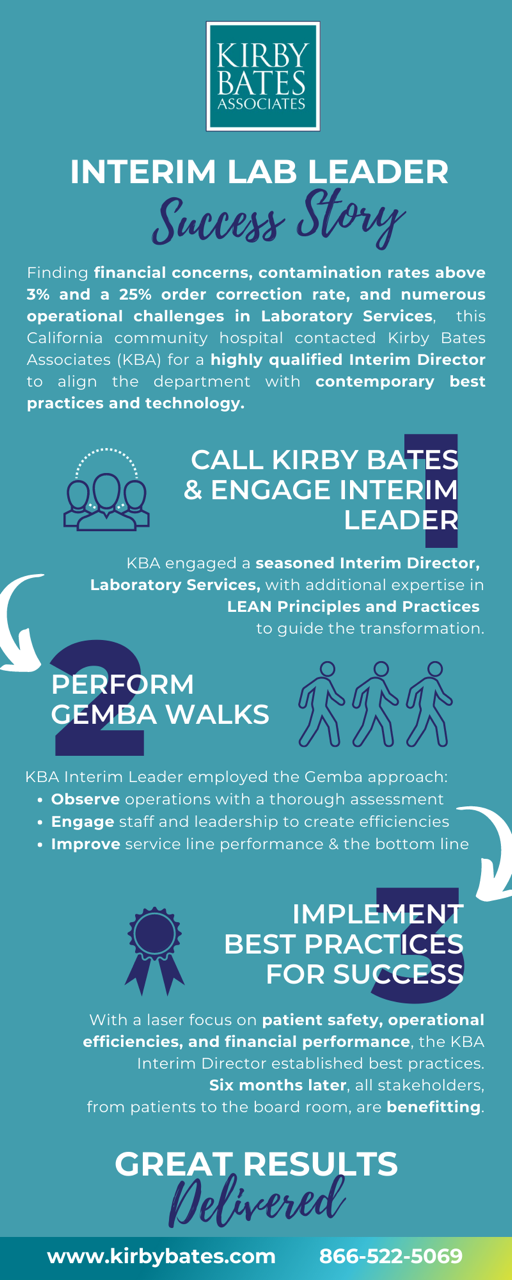 How can an interim leader support your organization? Contact Kirby Bates today for peace of mind and smooth transitions.