Chapter 1: 
"Unique Challenges from Surgical Services"
Part III
by Gerald E. Biala, MSN, RN, CNOR, CSSM, Senior VP of Sullivan Healthcare Consulting 
and Therese A. Fitzpatrick, PhD, RN, FAAN
Published by Sigma 
Did you miss the previous installments? Read Part I here and Part II here.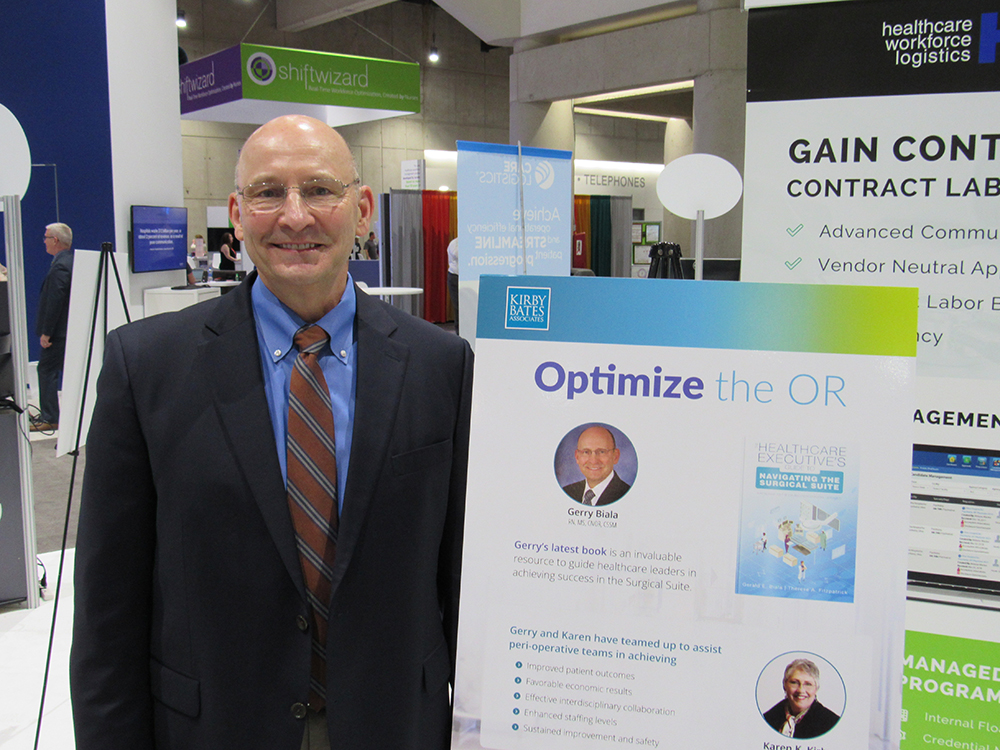 This book provides experienced and novice healthcare leaders with the information, leadership structures, and practical strategies needed to successfully oversee both patient outcomes and balance sheets.
Evolving Relationships with Surgeons: Competitor or Collaborator
The growth of ambulatory centers has been meteoric given new payment approaches, advances in technology and biopharmaceuticals, which have radically lessened the need for traditional inpatient surgical care.  For the most part, surgeons continue to direct cases to a preferred hospital and a preferred level or location for care, whether inpatient or ambulatory. The emergence of surgeons as business owners should not come as a surprise.  Whether surgeons are primary owner-investors or partners with a growing number of ambulatory surgery center (ASC) management companies, acute care hospitals increasingly are finding themselves in the thorny position of competing with their referring surgeons for surgical business.
Reporting in Becker's ASC Review, Dyrda (2013) notes that between 2001 and 2011, the number of ASC operating rooms doubled in the U.S., and by 2011, 60 percent of all hospitals had an ASC within five minutes of the hospital. ASCs are big business. In 2011, Medicare made $3.5 billion in payments to ASCs (Dyrda, 2013).  This competitive threat for hospitals will only escalate with the continued evolution of minimally invasive surgical techniques, pain management approaches and non-acute venues for recovery and rehabilitation, including home care and home therapies.
Hospitals were once able to balance the number of highly profitable, less complex cases covered by surgical services with those patients whose multiple comorbidities, lengthy inpatient stays and overall high resource utilization resulted in lower profitability.  With the growth of ASCs, profitable surgical cases increasingly are diverted from acute care hospitals to ASCs that can achieve clinical outcomes that rival or exceed hospital surgical programs for a much lower cost.
Unique Challenges in the OR 
In addition to the disruptive payment, market and competitive forces described here, the new executive faces unique labor challenges with surgical service programs, which threaten the long-term financial health of the organization.  While there has been a surge in healthcare hiring, healthcare employees continue to represent a steady 7.3 percent of U.S. workers (Daly, 2016). According to the Bureau of Labor Statistics (BLS), union members across sectors of the economy represent roughly 11 percent of the overall workforce (2017).  
The American Federation of State, County and Municipal Employees (AFSCME) — United Nurses of America reported that the issues that typically drive organizing efforts among nurses include mandatory shifts, poorly constructed and implemented overtime and on-call policies, and deteriorating relationships with physicians (Holleran, 2001).  All of these triggers are prominent in the operating room. Coupled with the administrative isolation of the department, they represent a potential area of smoldering discontent for surgical services. The union reports that nurses in a number of states are lobbying for legislation to end the practice of mandatory overtime. This practice has increased in operating rooms across the country as hospitals attempt to create more flexible schedules to accommodate surgeons and patients.  
Personnel management challenges are on a collision course with the unique demographic threats facing surgical services.  A 2013 national study of nurses conducted by AMN Healthcare found that 12 percent of the total nursing workforce is concentrated in the perioperative areas, specifically the operating room and post-anesthesia.  Patterson, in OR Manager (2012), noted that almost 60 percent of surgical service managers who responded to a survey reported current difficulty filing RN and technician positions. A larger 68 percent predicted significant difficulty during the next five years.
An OR Nursing Shortage Looms
Buerhaus, Staiger, and Auerbach (2000) point to the fact that graduates of nursing diploma programs have concentrated in greatest numbers in the operating room because these programs offered greater exposure and experience in surgical nursing than baccalaureate programs.  The shift away from diploma programs means that younger, college-educated nursing students in the late 1970s and through the 1980s were less likely to have been exposed to operating room experiences than in earlier decades. As a large group of expert OR nurses approaches retirement, surgical departments are facing a precipitous need for new nurses that will require a lengthy amount of time and resources to develop skills and proficiency in the care of surgical patients.
Surgical Services at the Epicenter of Healthcare Disruption
Healthcare is facing disruptive forces beyond any experienced before, and Kaufman (2018) notes that disruption will be faster, bigger, and broader in 2018 and beyond.  Creative and well-capitalized industries (such as the technological industry) without a historic presence in healthcare are entering the business, using their experience to redefine and set the standard for the level of service in a customized, immediate world. 
Grube (2018) suggests that numerous parallels exist between the retail industry and healthcare.  Both are beset by converging forces, including large-scare disruptive competitors, intense pricing pressures and a need to optimize efficiencies. Healthcare, much like retail, is experiencing a significant decline in revenue as disruptive models from some unlikely sources compete with traditional approaches. 
Amid this intense pressure to provide value at lower costs, hospital executives face significant pressure to more effectively and efficiently manage their surgical operations. Labor is scarce and regulatory requirements mounting.
For new executives, the surgical service-learning curve is steep, with significant financial and operating risk if they fail to address challenges with thoughtful expedience. 
Sign up to receive Kirby Bates industry updates and news delivered right to your inbox! Did you miss the previous installments? Read Part I here and Part II here.

About Kirby Bates Associates
Kirby Bates Associates drives healthcare organizations to achieve high quality, cost-effective patient care with our comprehensive portfolio of proven leadership services, including Executive Search, Interim Leadership, Leadership Coaching, and Operations Consulting. As former CEOs, COOs, and CNOs, our effective approaches achieve sustainable solutions for our clients' greatest leadership challenges.
About Sullivan Healthcare Consulting
Sullivan Healthcare Consulting (SHC) helps maximize the return on investment in the perioperative suites of hospitals and ambulatory surgery centers. The firm's consulting practice serves clients across the United States and Canada. Toll-free number: 866-303-8968.
References
AMN Healthcare. (2013).  2013 survey of registered nurses: Generation gap grows as healthcare transforms.  Retrieved from https://www.amnhealthcare.com/uploaded-Files/MainSite/Content/Healthcare_Industry_Insights/Industry_Research/2013_RNSurvey.pdf
Buerhaus, P.I., Staiger, D.O., & Auerbach, D.I. (2000). Why are shortages of hospital RNs concentrated in specialty care units?  Nursing Economics, 18(3), 111-116. Retrieved from https://www.amnhealthcare.com/uploaded-Files/MainSite/Content/Healthcare_Industry_Insights/Industry_Research/2013_RNSurvey.pdf
Buerhaus, P.I., Staiger, D.O., & Auerbach, D.I. (2000). Why are shortages of hospital RNs  concentrated in specialty care units? Nursing Economics, 18(3), 111-116. Retrieved from https://www.nurses.com/doc/why-are-shortages-of-hospital-rns-concentrate-0001
Bureau of Labor Statistics (BLS). (2017). Economics news release: Union members summary. Retrieved from https:// www.bls.gov/news.release/union2.nr0.htm
Centers for Medicare & Medicaid Services (CMS). (2017). CMS finalizes changes to the Comprehensive Care for Joint Replacement Model, cancels Episode Payment Models and Cardiac Rehabilitation Incentive Payment Model. [Press Release.] Retrieved from https://www.cms.gov/Newsroom/MediaReleaseDatabase/Press-releases/2017-Press-releases-items/2017-11-30.html
Daly, R. (2016) Unionization surges in healthcare. Healthcare Finance Management Association newsletter. Retrieved from https://www.hfma.org/Content.aspx?id=46614
Dyrda, L. (2013, October 7). 100 surgery center benchmarks & statistics to know.  Becker's ASC Review. Retrieved from https://www.beckersasc.com/lists/100-surgery-center-benchmarks-statistics-to-know.html
Grube, M. (2018, January 11).  The store is not dead, but the status quo is.  Kaufman Hall. Retrieved from https://www.kaufmanhall.com/ideas-resources/thoughts-ken/store-not-dead-status-quo
Highsted, B., & Peters, J. (2017, October 9). Q. What single strategy will drive the bulk of OR growth in the next 10 years? A. 360° engagement. Becker's Hospital Review. Retrieved from https://www.beckershospitalreview.com/patient-engagement/q-what-single-strategy-will-drive-the-bulk-of-growth-or-or-growth-in-the-next-10-years-a-360-engagement.html?tmpl=component&print=1&layout=default
Holleran, S. E. (2001, May/June).  What do nurses want? AFSCME Works Magazine. Retrieved from https://www.afscme.org/news/publications/newsletters/works/mayjune-2001/what-do-nurses-want
Kaufman, K. (2018, January). Faster, bigger, and broader: Healthcare disruption in 2018.  HFM Magazine. Retrieved from https://www.hfma.org/Content.aspx?id=57409
Patterson, P. (2012). Who will replace retiring perioperative nurses? OR Manager, 28(12). Retrieved from www.ormanager.com ◆