Join Us in Welcoming Chris Corwin, MSN, MPH, MBA, RN KBA's New Vice President, Executive Search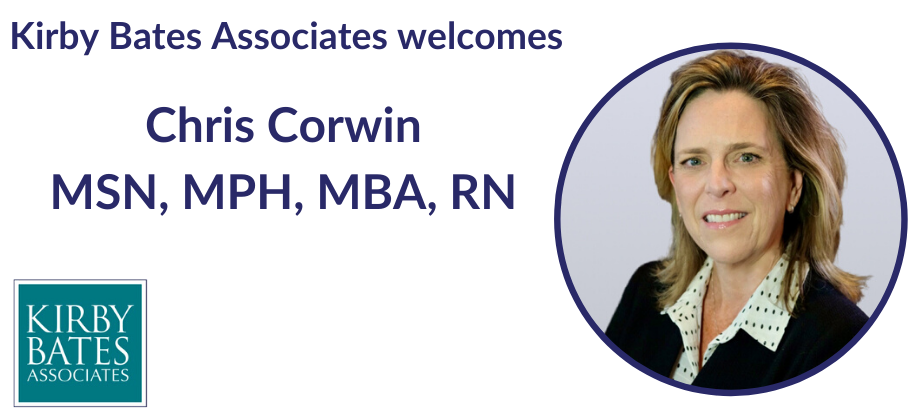 With more than 30 years of healthcare experience, serving as a practitioner, strategy and operations consultant, and a leadership and executive search consultant, Chris Corwin specializes in senior executive and board placements, as well as leadership assessment and coaching, and organizational structure assessment.
Clients recognize Chris for her solution-focused approach to their most pressing workforce challenges. These leaders value her ability to design creative and workable actions to achieve organizational and team goals. They also appreciate her collaborative and consultative approach to career development.
As a healthcare executive search and executive leader consultant, Chris has a successful track record of conducting C-level searches, with a particular area of interest in physicians transitioning into broader administrative roles.
"We welcome Chris to Kirby Bates' Executive Search Team. Her knowledge and diversity of experience in healthcare and executive search will help us to stay on the leading edge in developing high-performance leadership teams for our clients. Chris also brings valuable support to our west coast clients, candidates, and colleagues," remarked M. Jane Fitzsimmons, MSN, RN, Executive Vice President of Executive Search.
Chris earned a Master of Public Health, Healthcare Management from University of California Los Angeles (UCLA), a Masters of Business Administration from the University of Phoenix in California, a Master of Science in Nursing from Saint Louis University, and a Bachelor of Science in Nursing from the University of Missouri Saint Louis.
Melissa Fitzpatrick, MSN, RN, FAAN, President, adds, "Chris brings extensive executive search and leadership coaching experience to the KBA team. She is an integral part of our robust growth strategy and her background and reputation are strong additions to our leadership solutions portfolio. Chris is a terrific fit for our team and I know that our clients and candidates will thrive under her leadership."
[Congratulate Chris on Linkedin]

Year after year, Kirby Bates Associates' healthcare executive searches deliver the best possible candidates for your most crucial nursing leadership positions. With our proprietary 5-phase executive search process, we provide efficient, cost-effective, and diverse candidates for your greatest healthcare leadership challenges. Read "When Should Healthcare Executives Use Retained Search Firms?" for more information on the executive search process.