Kirby Bates Associates Recognized as Top 50 Healthcare & Life Sciences Search Firm by Hunt Scanlon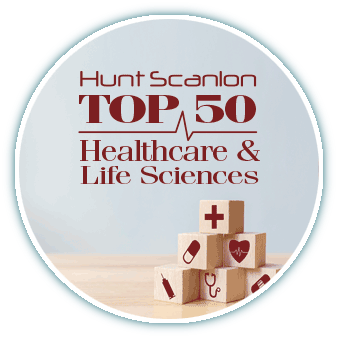 Kirby Bates Associates is pleased to announce the organization has been named by Hunt Scanlon as one of the industry's top 50 recruiting firms in the healthcare and life sciences sector in 2020. Hunt Scanlon, the industry leader in senior talent management news, briefings, and research creates this 'Top 50' list each year to highlight high-performing healthcare executive recruiting firms. This year's list is a culmination of influential, best-in-class executive recruiters who Hunt Scanlon considers to have the best reputation and largest reach in the healthcare and life sciences sectors.
For more than 30 years, Kirby Bates has driven healthcare organizations to achieve high quality, outcome-focused care through a continuum of proven solutions, including Executive Search, Interim Leadership, Leadership Coaching, and Operations Consulting. As successful healthcare CNOs and COOs, our effective approaches achieve sustainable solutions for our clients' greatest leadership and organizational challenges.
"It is an honor for Kirby Bates Associates to be named to this distinguished list of leading healthcare executive search firms. Inclusion in this 'Top 50' list is evidence of our commitment to delivering exceptional executive leaders who share our passion for healthcare advancement and high-quality patient care," says Melissa A. Fitzpatrick, MSN, RN, FAAN, president of Kirby Bates Associates.
Since 1988, Kirby Bates has supported healthcare organizations with innovative executive leadership solutions.
Learn more about Kirby Bates' services and results or contact our team for more information on how we can assist your organization to conquer your most ambitious clinical and operational goals.